Ambassadors
Kepanipa'a "Pa'a" Damaso
Pa'a started his fire knife dancing career on the island of Hawaii in his hometown of Waikoloa. He picked up the art and started his passion as a performer for world renowned Polynesian entertainment company, Tihati Productions. Since his start, Pa'a has progressed to becoming a top name in the current fire knife competition community. As the 2017 Second Runner Up at the World Fire Knife Championships at the Polynesian Cultural Center in Laie, Hawaii; as well as being the 2017 Champion at the Siva Afi Competition at the Weekend in Polynesia Festival in Long Beach, California; Pa'a strives to perpetuate the Polynesian culture through the innovation and sport of the fire knife dance. We are extremely lucky to call him not only a supporter, but also a friend! Blast on, Kepanipa'a!
Kuinise Leiataua, Jr.
Kuinise Leiataua, Jr. is another extremely talented fire knife dancer that has been wow-ing stages since a young age. Being a next-generation name to the fire knife world, Kuin learned the art from his father, Kuinise Leiataua, Sr., who is well know in the fire knife competition community for his judging experience. "Junior", himself, has been competing since he was in the junior category, and still competes all over the world to this day! He has had the opportunity to travel all over the world, competing against some of the best in the sport, and has been blessed with the opportunity to go home with many awards in the process. Thank you Kuinise for all your support and keep BLASTING ON!
David Galeai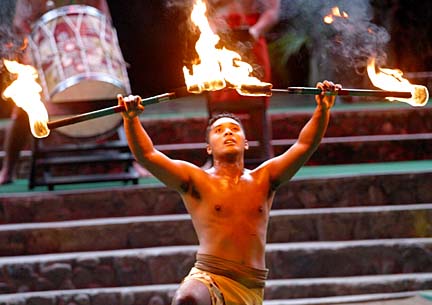 David Galeai has been known in the fire knife community to be one of the innovators of the sport. This 3-time World Champion has created a legacy for himself that most fire knife dancers can only dream of. Aside from being an extremely skilled and talented performer, David spends his days as a true ambassador of the arts, through the teachings of his fire knife school, Vaimatina, located in Laie, Oahu. Aside from his hometown teaching, David travels all around the world teaching the arts and being an advocate of the sport. We are extremely thankful that he has given us the support over the years and we look forward to seeing his legacy grow even more in the future!
MORE AMBASSADORS COMING SOON....